Welcome to our comprehensive guide on the various types of screwdrivers and how they can be used as essential tools in your daily life!
With a wide range of screw types and sizes, having the right screwdriver on hand is crucial to confidently tackle any project or repair job.
In this conversation, we'll walk you through 20 types of screwdrivers, including their unique features and applications.
Whether you're a DIY enthusiast, a professional tradesperson, or someone who wants to be prepared for simple fixes, this guide will equip you with the knowledge you need to choose the perfect screwdriver.
Let's explore the world of screwdrivers together and unlock the secrets of these indispensable tools!
In this article, we will discuss 20 different types of screwdrivers. These types of screwdrivers are widely used in our daily life.
Table of Contents
What is a screwdriver, and how to use it?
A screwdriver is a type of tool used to turn a screw. The most common types are Pozidriv, Phillips, and Torx.
Screwdrivers are usually metal or plastic and come in different sizes and lengths.
It is important to use a screwdriver that fits your screws properly; otherwise, it may damage your screws and make it difficult to remove them later on down the line.
Why do we need various types of screwdrivers?
There are many different screwdrivers you need for your house. You need a flathead, Philips's head, and a precision screwdriver to open various electronic devices that you may have.
Most importantly, you need a quality pair of pliers because it's hard to find enough quality items that can do multiple tasks as pliers can. You also need a hammer or a mallet as they help securely put nails in their place.
When buying these items, many people have their preferences, so research what is best for you. If you do not have these things already, try to get them as soon as possible because they are essential household tools.
What is the advantage of different types of screwdrivers?
A screwdriver is a simple hand tool with a bladed tip that drives screws into wood, metal, or plastic. While the basic idea hasn't changed much over the years, there are a lot of different kinds of screwdrivers now, each suited for its particular purpose.
If you're starting in the DIY world and don't have much experience with hardware, it can be hard to know which ones you need and which you don't. That's why we compiled a list of our top 25 must-have tools for any household.
Look below to learn more about how screwdrivers can improve your life at home.
Here are 20 Different Types of Screwdrivers:
1. Flathead Screwdrivers: Amartisan 10-Piece Magnetic Screwdrivers Set
2. Phillips Head Screwdrivers: Klein Tools 603-4 Screwdriver, 8-Inch
3. Pozidriv Screwdrivers: GEARWRENCH 4 Pc. Pozidriv Dual Material Screwdriver Set
4. Torx Screwdrivers: Torx Bit Set with 1/4 inch Magnetic Bit Driver Set
5. Hex Screwdrivers: HRB 4pcs Hex Driver Set Titanium Hexagon Screwdriver
6. Robertson Screwdrivers: Robertson Square Head Screwdriver Set, 5Pcs
7. Tri-Point Drivers: Youletao Y Screwdriver for Nintendo Switch
8. Tri-angle Drivers: SIKAMI Screw Triangle Head Magnetic Screwdrivers Set, 5Pcs
9. Tri-wing Drivers: Tri-Wing Precision Screwdriver Tool
10. Spanner Driver: Spanner Screwdriver Bit Set – Railer 5PC S2 Steel 2″
11. Bolster Drivers: Wiha 34715 Nut Driver with Hex Bolster and SoftFinish Handle
12. Frearson Drivers:
13. Japanese Industrial Standard Screwdriver:
14. Electric Screwdriver:
15. Battery-powered Screwdriver:
16. Corded Screwdriver:
17. Cordless Screwdriver:
18. Magnetic Screwdriver:
19. Jeweler's Screwdriver:
20. Ratcheting Screwdriver:
Here are 20 Different Types of Screwdrivers and their uses:
Today, we will cover 20 different types of screwdrivers and their uses.
We'll go over what they are, what they look like, how they're made, why you might use them, and some examples of each type of screwdriver.
Here we go!
A flathead screwdriver is a simple hand tool that serves to help remove or tighten a variety of screws. Screwdrivers come in a wide range of sizes, from tiny 1-2mm ones to heavy-duty 3 ones.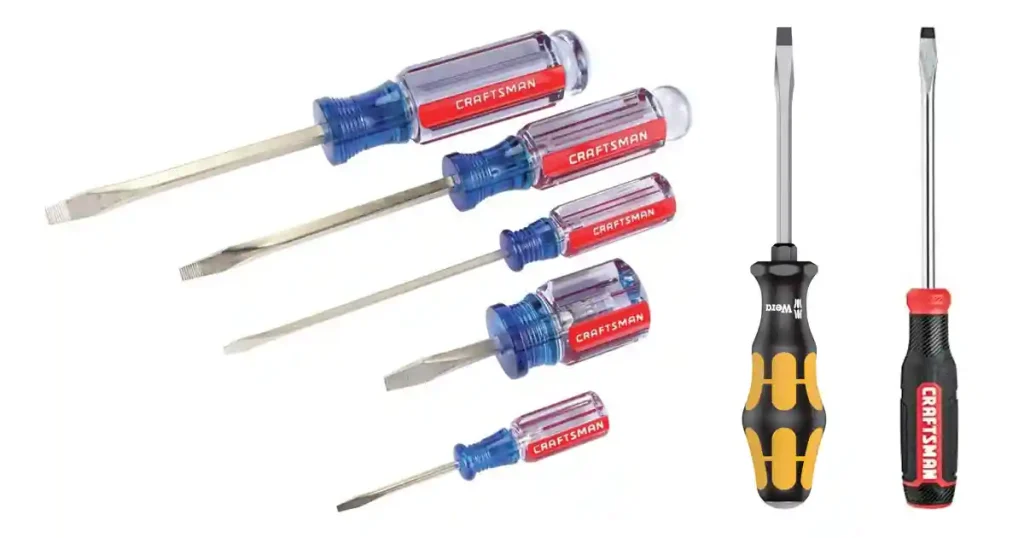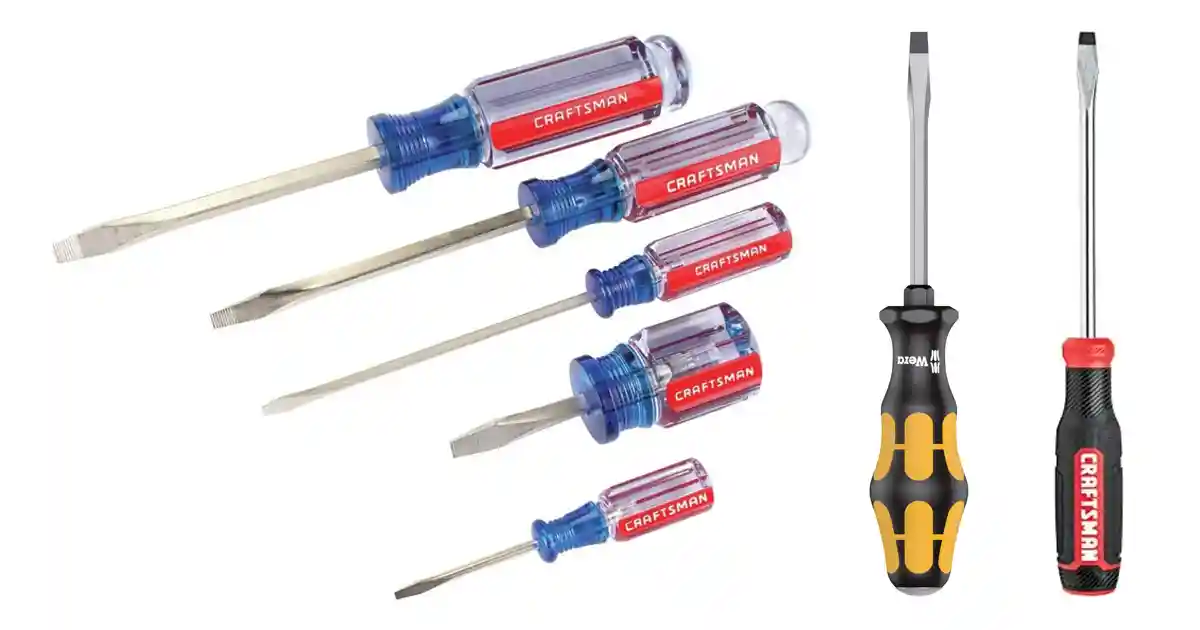 Flathead drivers are used for driving slotted screws (slotted is a style that allows for fastener loosening or tightening via a simple sliding motion and is prevalent in most modern applications). This flathead driver comes in both flat and Philips designs.
According to Wikipedia, Henry Frank Phillips was an American businessman. He lived from June 4, 1889, to April 13, 1958.
In daily life, we use different types of screwdrivers. A Phillips head screwdriver may be a common type with a cross-shaped head.
This screwdriver is usually used on various wood, screws, and other machines with slotted heads. While they need many different uses, they strip out screws if handled incorrectly.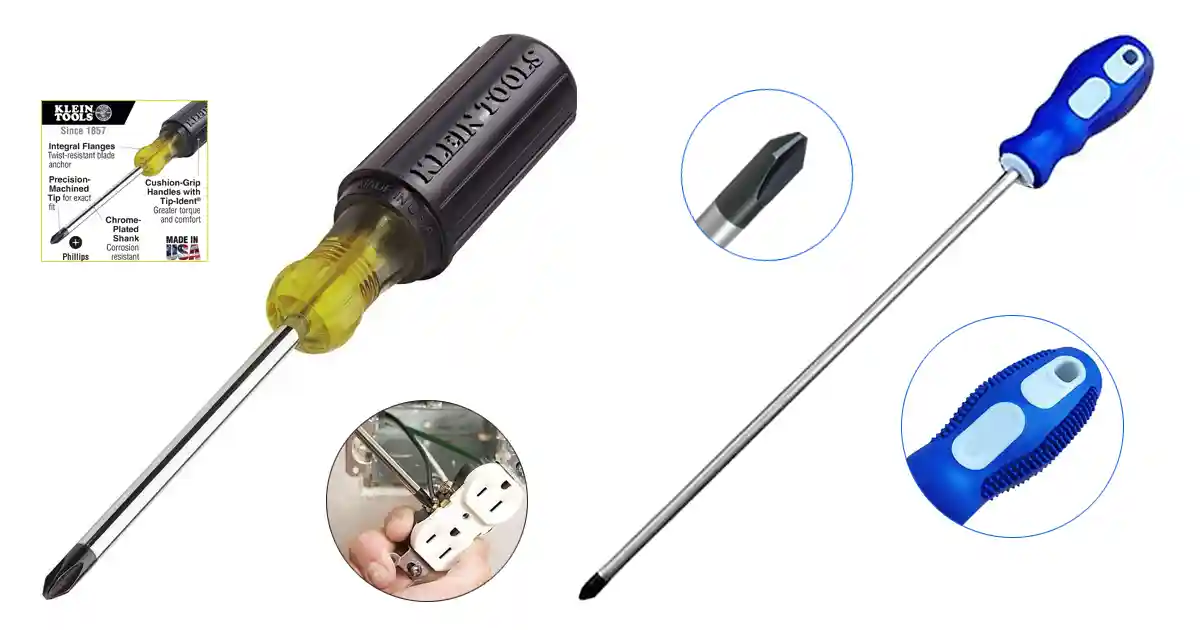 Phillips Head Screwdrivers are available in different sizes and weights based on their use. But most ordinarily have flat blades and handles that curve toward a handle at one end.
The most common size is #8 (approx. 5/32-inch in diameter).
But the acceptable size of the screw will depend on your project.
The Pozidriv screwdriver is used for Pozidriv screws, a type of Torx drive. NASA created the Pozidriv design, which is common in aerospace and military applications.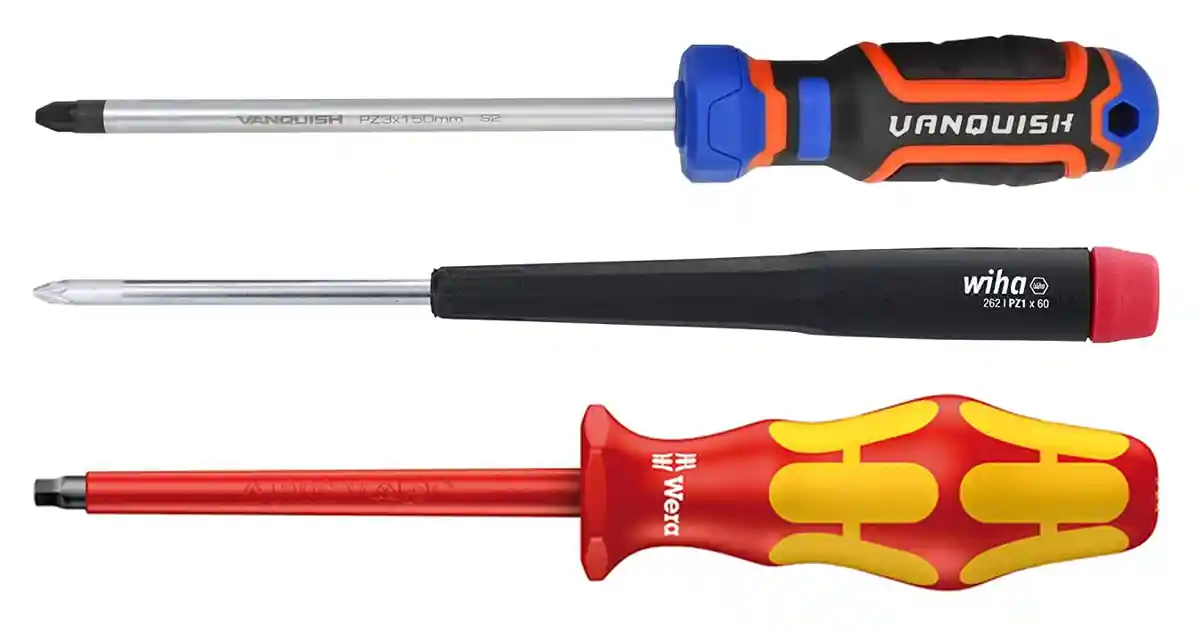 To use a Pozidriv screwdriver, slip it into your drill bit holder, and you're ready to go. This makes it easier to ensure that your screws are aligned properly with their corresponding holes.
A Torx screwdriver is one of many different types of screwdrivers available. It is most commonly used for working with electric and mechanical parts.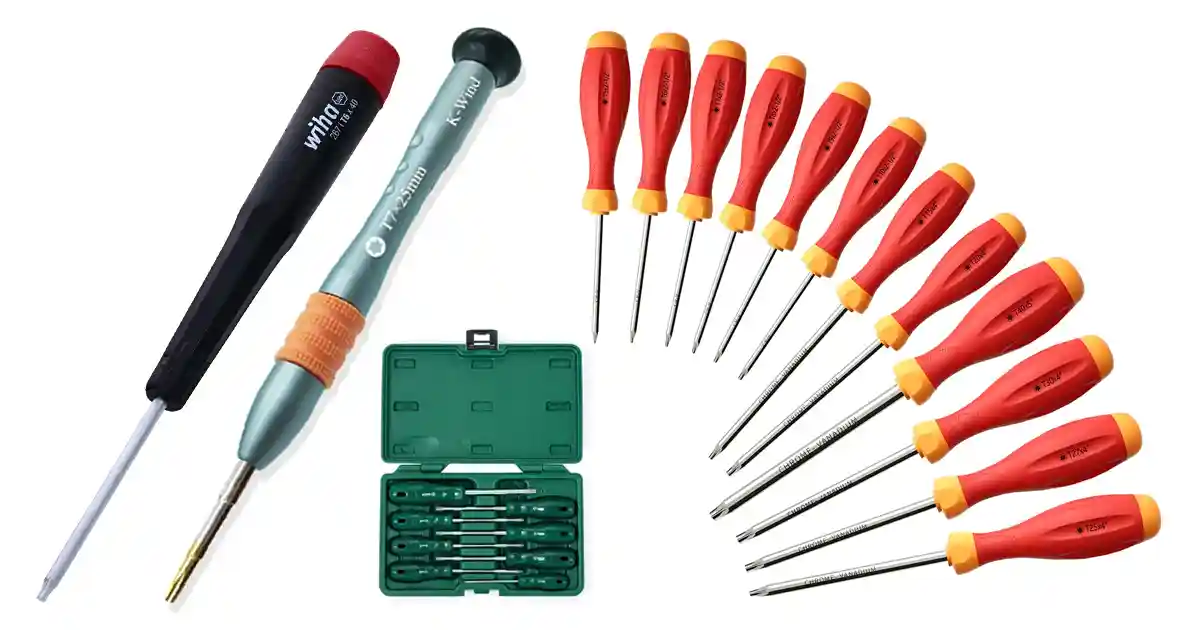 Torx screwdrivers are unique in that they have a star-shaped head that can fit into corners or screws that regular flat-head screwdrivers cannot reach.
The advantage to using a Torx Screwdriver over a traditional flat-head driver is that it can be adjusted so you do not strip as many parts.
Hex Screwdriver refers to a type of screwdriver with a specific hexagonal shape on its tip. This tool is used for tightening and loosening hexagon-head screws and when working with fasteners in carpentry and other DIY projects.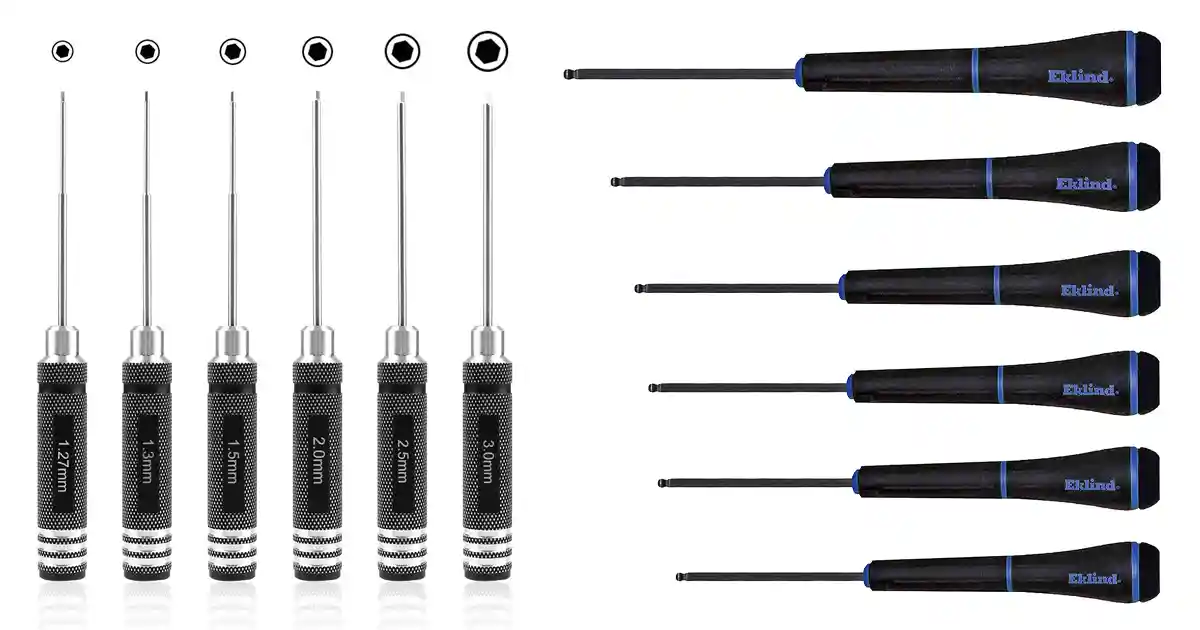 Generally, if you can come across a hexagon-head screw, having a Hex Screwdriver handy is never a bad idea.
The sharp edges and design help to easily grip a single type of fastener.
This screwdriver was invented by a native Canadian, P.L. Robertson, in 1908.
A Robertson screwdriver is a cross-head screwdriver with a square blade that drives screws into Robertson's heads.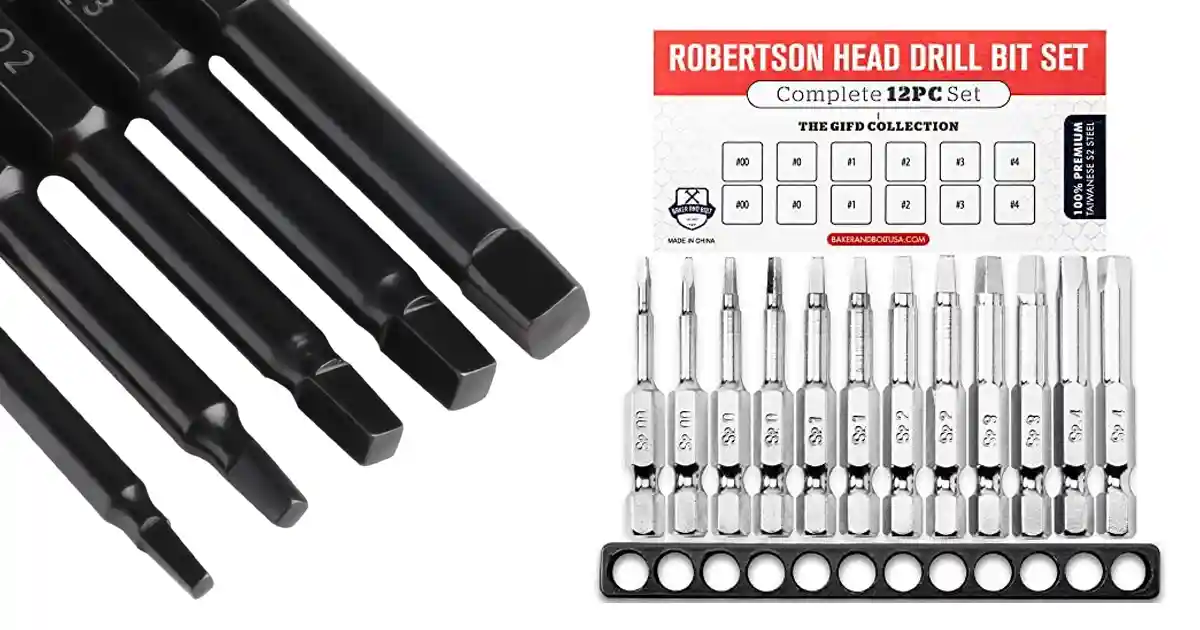 This type of screw has a tapered socket, so you don't need to use additional tools when turning them; slide in your tool and turn away.
A Robertson driver's square head is larger than a slotted driver's, so it's especially useful for bigger jobs where you want more torque or if you want to use an impact wrench.
The most common type is a tri-point driver, with three points that contact a screw head simultaneously.
Tri-Point screwdrivers are useful for tightening larger screws because they engage more surface area on a bolt than a standard flathead or Phillips head.
These drivers come in many sizes and are also used for smaller jobs.
Using a tri-angle driver is easy. To tighten a screw, place one side of your Tri-angle Driver on top of it and then use a Teflon Hammer to strike it.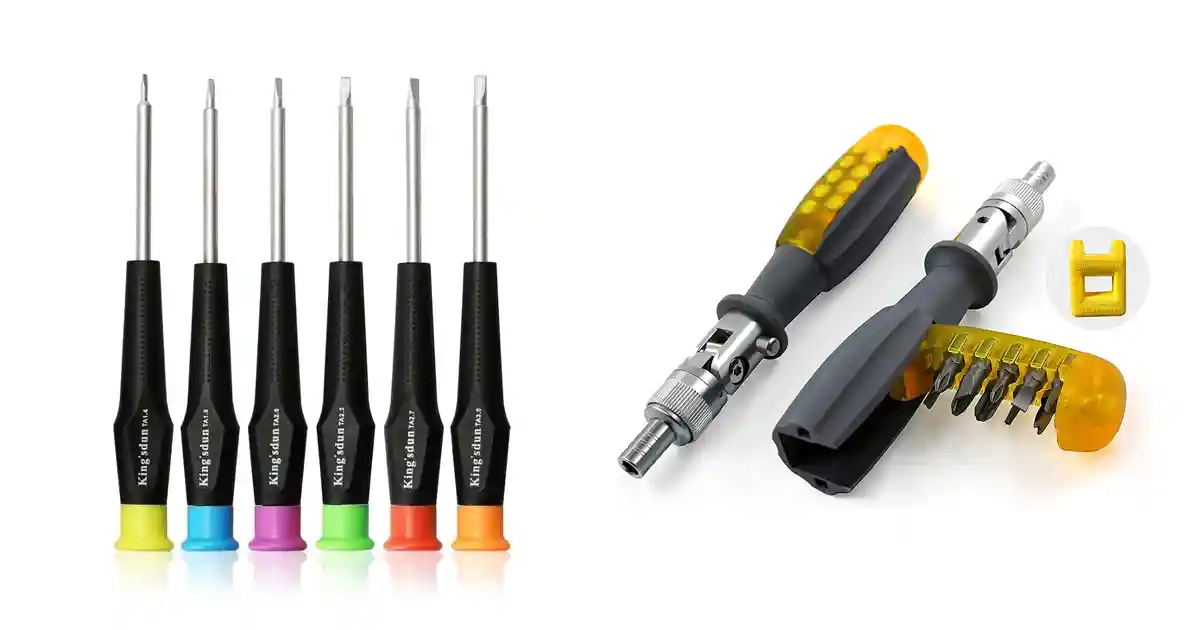 The leverage provided by its design allows you to use more force with less effort than other types of drivers.
If you need to change out screws quickly, they are a great choice for experienced and novice mechanics.
The Tri-wing Driver is a special screwdriver that fits onto a standard-size hex nut driver. The tip screws off to reveal three slots for adjusting small parts, and it's an essential tool for watch repair.
But Tri-wing Drivers have many other uses:
Remove glasses and sunglasses with damaged nosepieces,
Pop-out old SIM cards from cell phones,
Adjust glasses and sunglasses with loose nosepieces,
And much more.
The main use for a spanner is to remove and tighten bolts. If you're working on a machine with many nuts and bolts. You'll want to use these drivers as they are designed specifically for that task.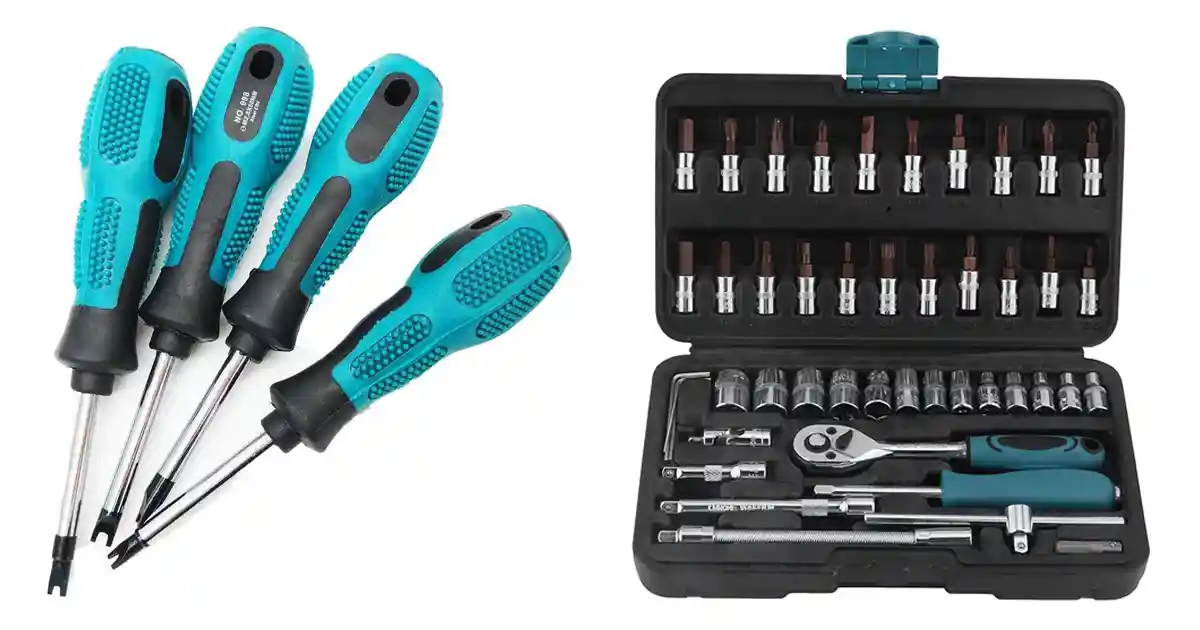 In addition to nuts and bolts, these types of screwdrivers can be used on pipe fittings.
A bolster driver crosses a conventional screwdriver and a regular hammer.
Bolster screwdrivers are usually used to break hard materials such as stone, brick, and metal. Its handle and strong beveled edge blade cut easily.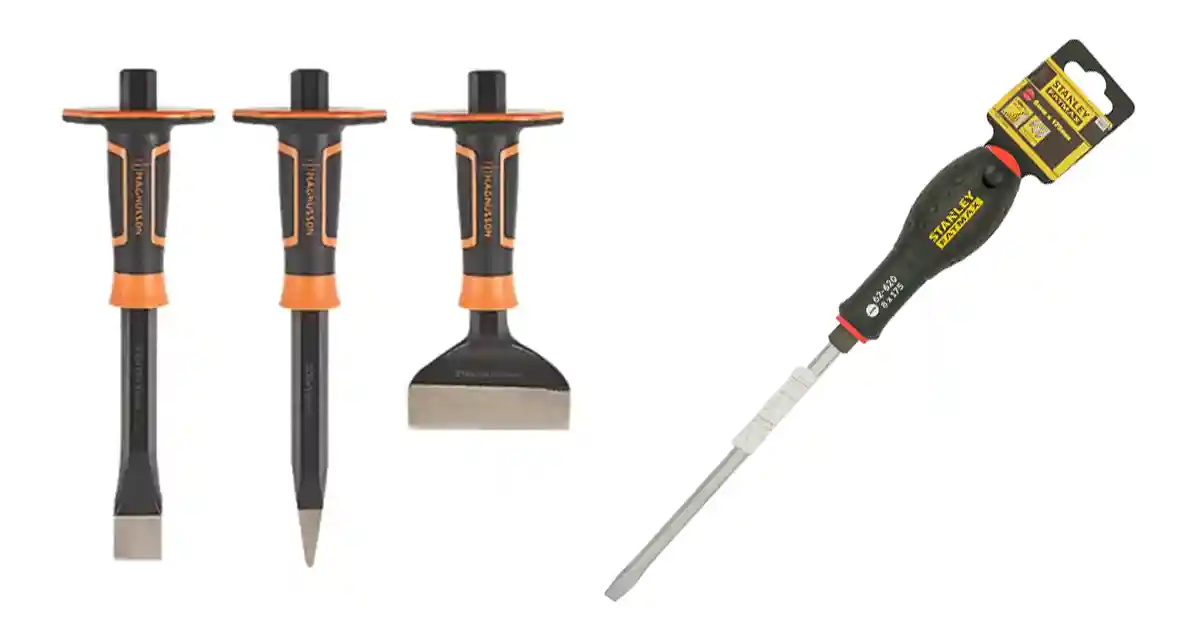 It's used to seat threaded fasteners and on stripped head bolts. In their function, Bolster drivers are similar to dead-blow hammers but do not have a striking face like regular hammers.
They are sometimes called one-way drivers because they spin only one way when striking something or are used as non-percussive fastener installers.
12. Frearson Screwdrivers
This Frierson screw drive is also known as the Reed and Prince screwdriver.
Commonly used to remove panels on electronics and as a substitute for chisels, Frearson drivers are perhaps one of the most unusual-looking screwdriver shapes.
The standard Frearson shape is typically 5/16 inches in diameter and 3 inches long with a steel handle because they're larger than most normal screwdrivers.
Frearson drivers have a greater contact area, making them great for removing bolts (even if they're stripped).
13. Japanese Industrial Standard Screwdriver
The Japanese Industrial Standard screwdriver, or JIS screwdriver, is a small flat-head screwdriver that fits screws with a hexagonal head.
If you're working on something small and need to tighten a few screws here and there, use a JIS screwdriver. These can be found in most hardware stores and are very inexpensive.
14. Electric Screwdriver
An electric screwdriver is a type of screwdriver that's powered by electricity rather than by a motor. Electric screwdrivers can be used for various applications, including tightening and loosening screws or rotating screws in different directions.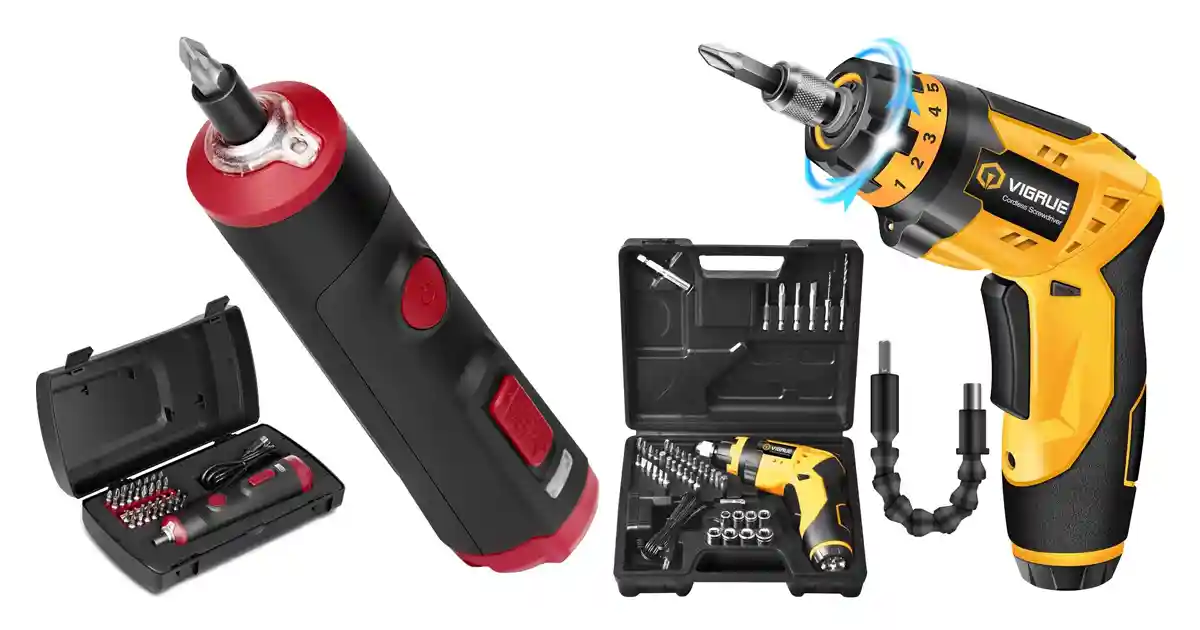 One benefit to using an electric screwdriver is that it can save time: in many cases, it will reduce your overall work time by around 30 to 50 percent.
15. Battery-powered Screwdriver
There are many different types of screwdrivers. In addition to manual screwdrivers, you'll often find electric and battery-powered ones. A battery-powered screwdriver is a convenient tool when you don't have an outlet nearby.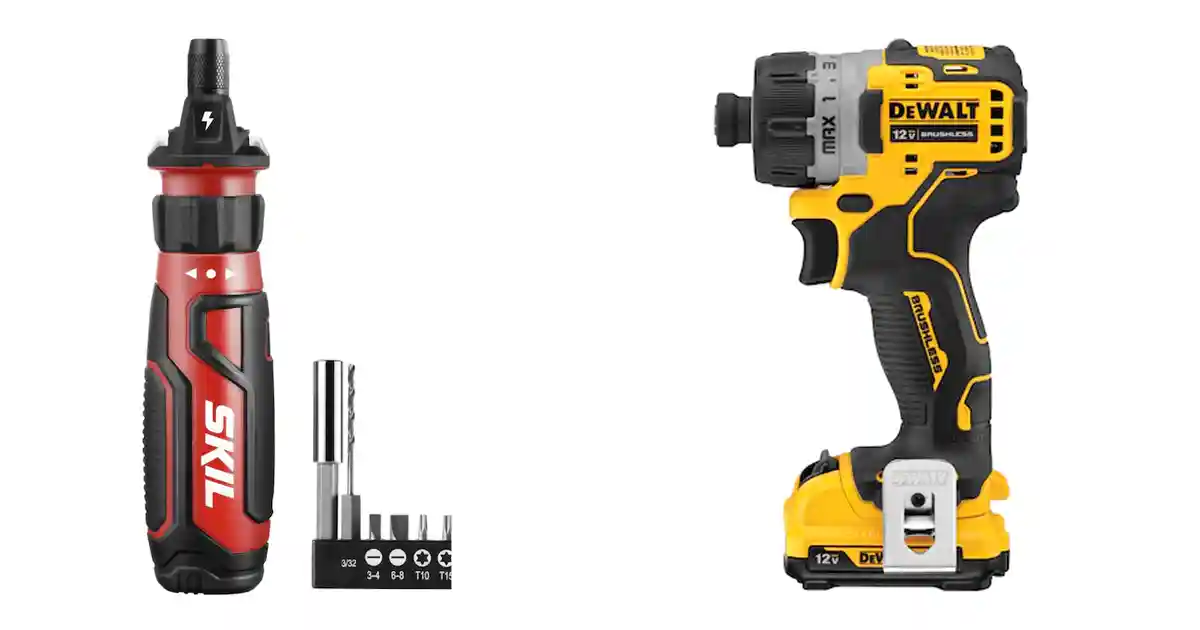 To use one, insert a battery and screw it in before pressing it down on a screw. Check your battery-powered screwdriver regularly to ensure it still holds a charge and can be used heavily.
16. Corded Screwdriver
A corded screwdriver is an electric hand tool that drives screws into surfaces. It is a type of power tool and a sub-type of the drill.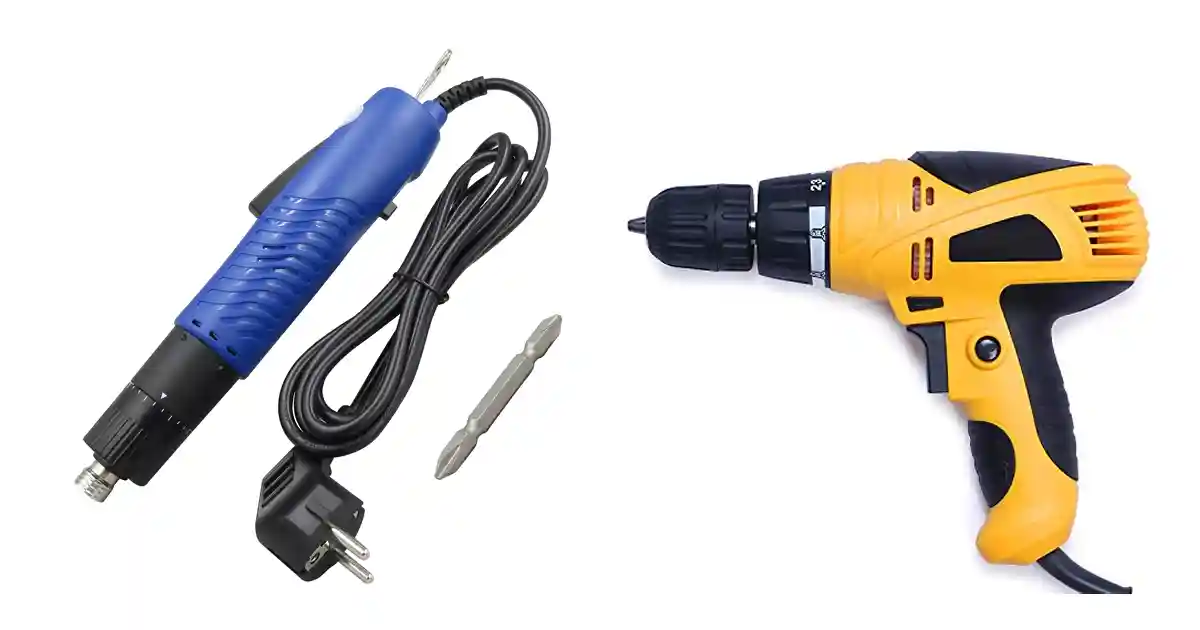 Using rotating magnetic fields or a rotary milled cutting bit to boreholes and rotate a driver bit, otherwise known as a screwdriver.
Corded screwdrivers vary in size from handheld to floor-standing models.
17. Cordless Screwdriver
A cordless screwdriver is a handheld tool that inserts and removes screws. Cordless screwdrivers are great for many tasks, from small repairs to DIY projects around your home or on a job site.
They're perfect for quick jobs like hanging pictures and replacing cabinet knobs. A cordless driver is different from a drill; it doesn't have a spinning chuck (the part that holds your bit) and can't be used to bore holes into wood.
18. Magnetic Screwdriver
A magnetic screwdriver is a regular screwdriver with a magnetized tip that works on multiple types of screws.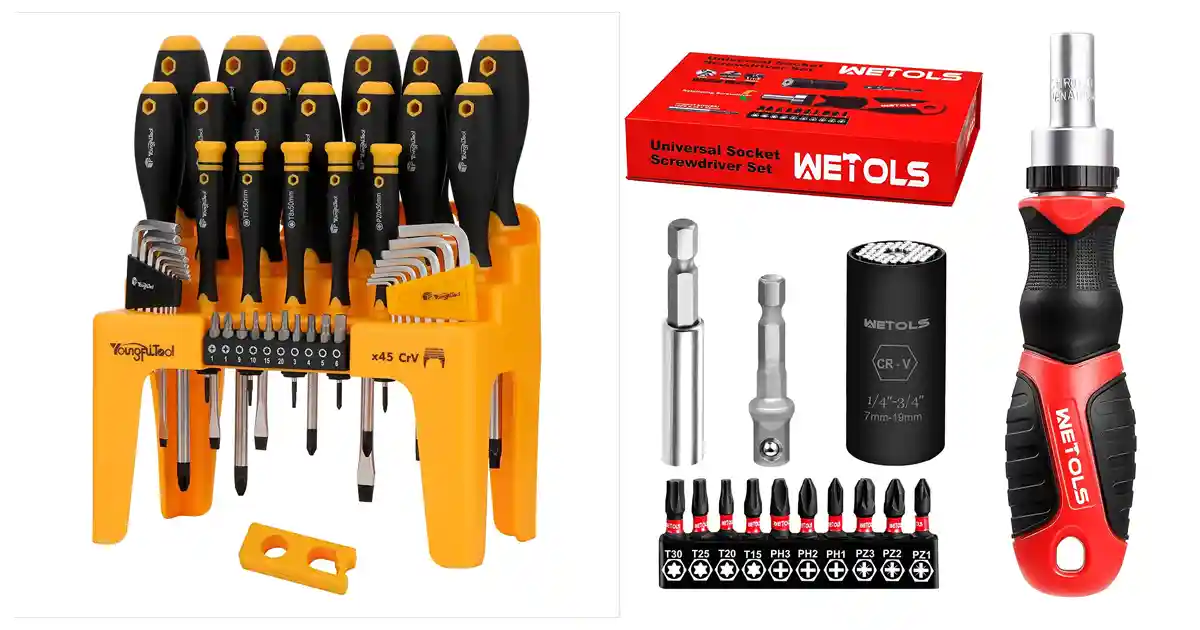 You can use a magnetic driver to remove and insert flat-head screws and Phillips and Torx screws in any direction.
Some even come with automatic shut-off, which means you don't have to hold down a button while you work, insert or remove screws like usual and let it do its thing when it's done.
19. Jeweler's Screwdriver
The Jeweler's Screwdriver is a small, flat-headed screwdriver with a handle and blade typically made from hardened steel. It loosens tight screws that fit into jewelry and eyeglass frames.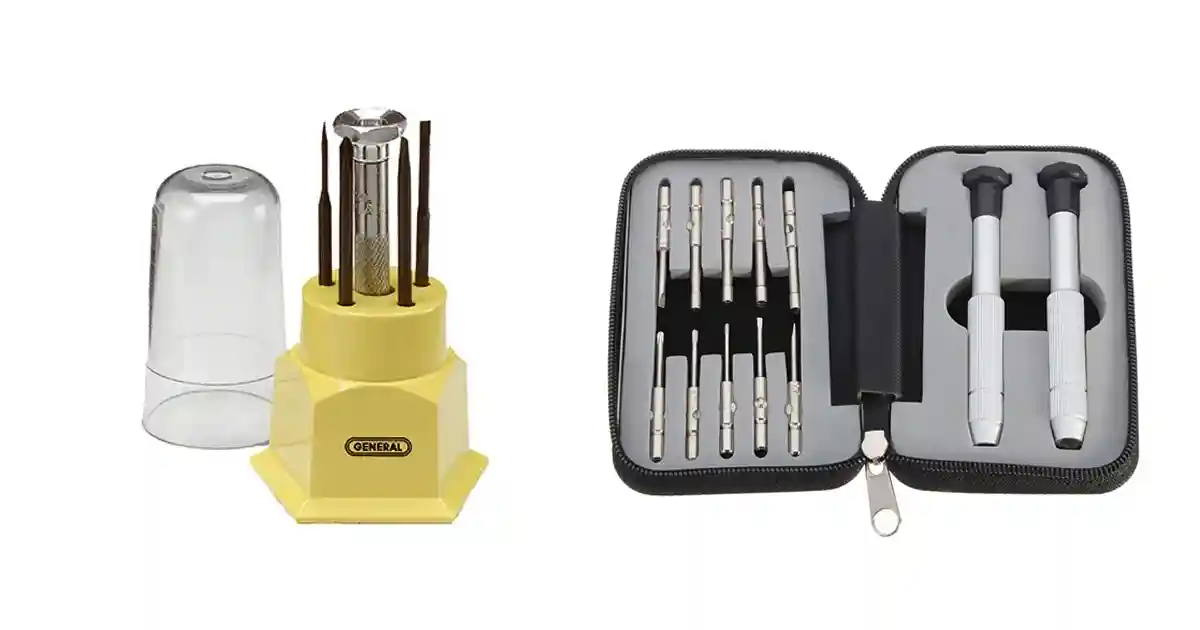 It is helpful to carry when traveling or when it isn't convenient to bring along other screwdriver sets.
20. Ratcheting Screwdriver
A ratcheting screwdriver is a specialty tool used to turn and tighten screws. Ratcheting screwdrivers are great for hard-to-reach areas and can be hand-cranked or electrically powered.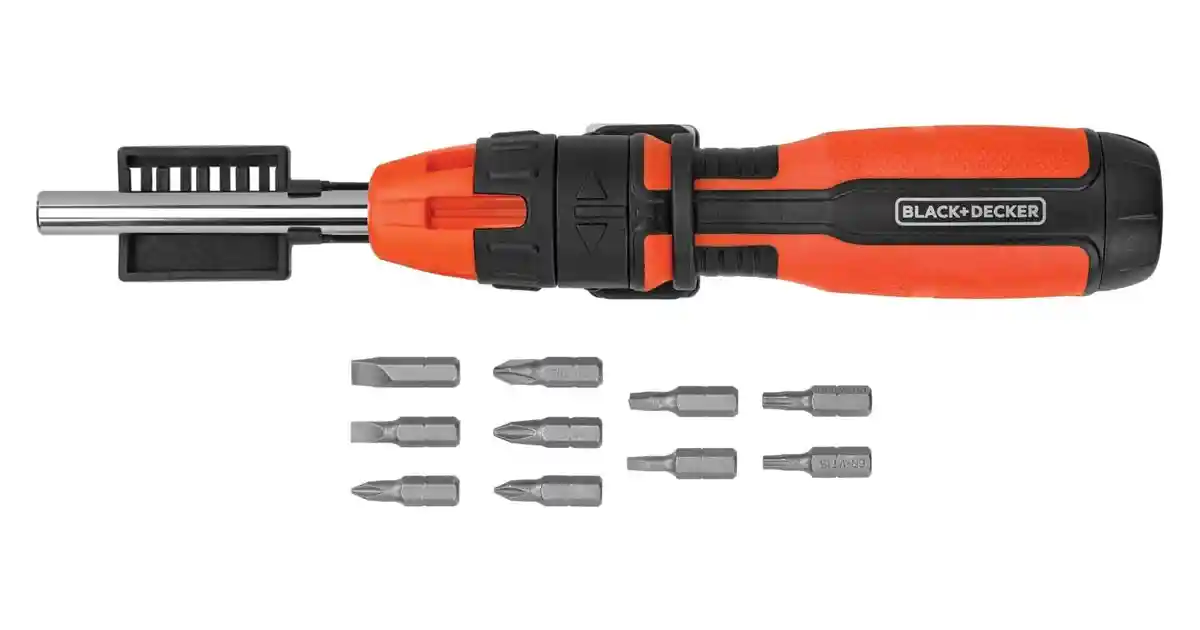 Most ratcheting screwdrivers allow you to switch between spinning clockwise and reverse directions easily—and they often come with replaceable bits.
What is the Disadvantage of a Screwdriver?
Screwdrivers have the most obvious disadvantage of any tool on the list, They're used to turn screws and nothing else.
If your screwdriver can only be turned in one direction, it will make even the simplest tasks more difficult than they need to be.
Plus, if you purchase a Philips head or flathead screwdriver that isn't of high quality, it may not last as long as you'd like.
You should buy a few different types of screwdrivers with varying grips (rubber vs. metal) so you don't strain your hands during use.
Conclusion
There are many types of screwdrivers in daily life. The Screwdriver is a versatile little tool, and you'll need one that comfortably fits in your hand.
If you're starting a new set of screwdrivers, look for something between 6 and 10 inches long; longer than that, it may be difficult to maneuver in tight spaces.
Also, ensure you have at least one regular screwdriver (the kind with a blade on one end) and one flathead screwdriver.
You'll use these most often. Another great thing about screwdrivers is they are cheap.
You can check Wikipedia for getting more information on types of Screwdrivers.
Related Topics: Choose the Best 19 Wood Cutting Tools of 2022